Industrial Simplicity: Q&A with Fashion Week Barcelona's Txell Miras
Running your eyes through Txell Miras' collection, one might feel a sense of frigidness and silence. She doesn't distract us with loud colors and patterns. Instead, her designs convey the essence of architecture and industry in the form of clothing. A fashion minimalist's dream, Txell Miras' Spring Summer 17 collection is something that we crave when looking for simplicity, refinement, and elegance. Her collection, 'Containers', is everything we need this winter to make our wardrobes chic and sophisticated.
Read more about Txell below!
What was your inspiration behind your S/S 17 collection?
The collection is called 'Containers' and was inspired by shipping ports: stacked metal containers, coded and re-used. An industrial area filled with color, cranes, noise and ships. It really contrasts with the idea of containers: cold, silent, hollow, stacked. As a result, the collection plays with this duality. An object taken out of its habitual context acquires a contrary dimension, but maintains its essence.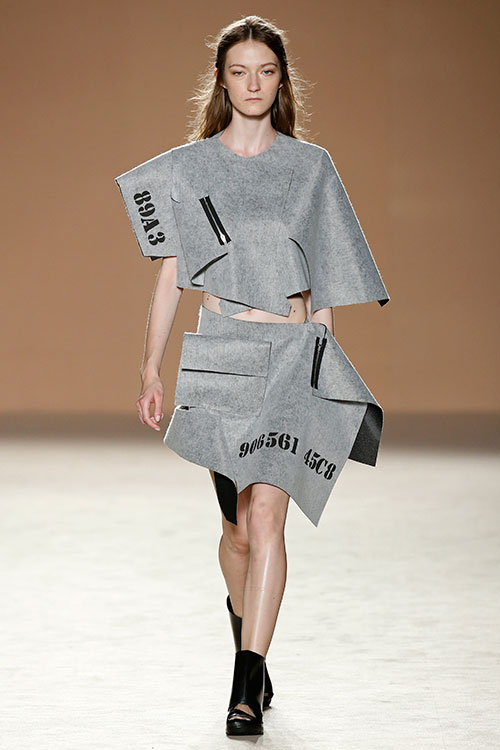 Model walks the runway in Txell Miras S/S 17 Collection.
Your collection is very clean cut and refined, what is the message behind it?
I'm interested in shapes and patterns. I work with volumes and use pure lines. I feel that containers command a certain architectural presence and a sense of coldness. I suppose this is what the collection communicates.
What is it about being a designer that enthuses you the most?
Creating my own discourse. Playing with patterns and shapes. I'm interested in the human form and the concept of fashion so I can easily link both passions.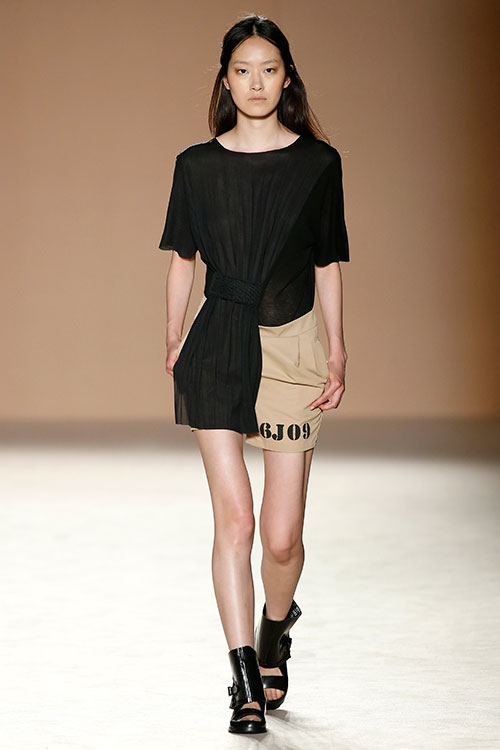 A minimalist's dream: Txell Miras S/S 17 Collection at Fashion Week Barcelona.
What excited you the most about participating in Barcelona Fashion Week?
On the catwalk, you can show a completed vision by incorporating music, lights, performance, etc.
Do you have any favorite up-and-coming designers that you're looking out for?
I don't know many new designers. The last one I knew was Boris Bidjan Saberi, but he's very well recognized now so…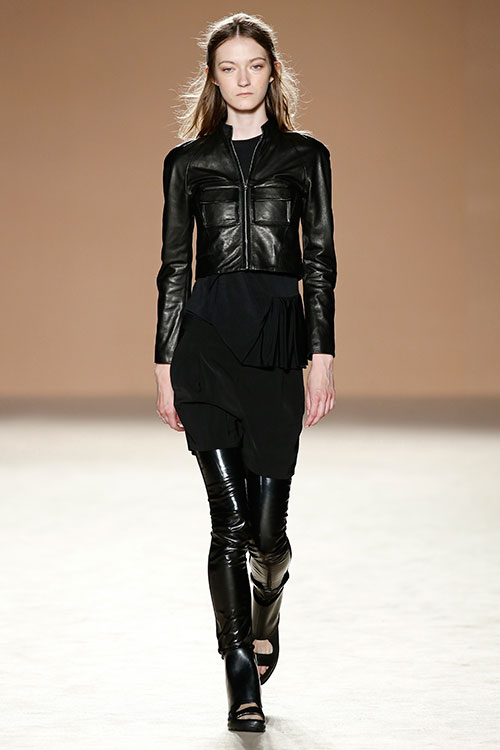 Fine in leather: Model for Txell Miras S/S 17 Collection.
Which designer or brand would you like to collaborate with if given the chance?
I've been collaborating with Neil Barrett since 2003. I wouldn't mind a collaboration with Sacai. I find her work very interesting, especially her winter collections.
If you could have a spokesmodel for your brand, who would it be?
Marina Pérez. I've worked with her several times and I love her attitude and look.
Describe your brand in 3 words.
Conceptual, architectural and pure.
Inside Fashion Week, Barcelona airs Monday October 31st at 20:00 (UTC+2) Madrid, only on Fashion One.