The Dark and Wonderful World of Winterstan: Q&A with Fashion Week Tunis designer Ludovic Winterstan
Shamans, witches and black magic with a hint of Swarovski and lace. Parisian designer Ludovic Winterstan takes us on a dark fairytale adventure with his latest Spring Summer 2016 collection, Noir. Winterstan shows us his wonderful and whimsical world, all on the runways of Tunis. From being inspired by Tilda Swinton, to loving the stress and energy of Fashion Week, Ludovic Winterstan is here to please us with his charm and esoteric designs.
Check out our exclusive interview with Ludovic below!
What was the inspiration behind your S/S 16 Collection?
This collection was already very important to me from the beginning as it marked the end of my triptych around "black." I wanted to finish this "black" theme after using it for the first two seasons. It's given me a tremendous amount of luck. It questions the word "Noir." Black just really evoked an esoteric meaning to it. Shamans, witches, black magic... it all originated from those ideas...with the support of Swarovski and Caudrésien lace.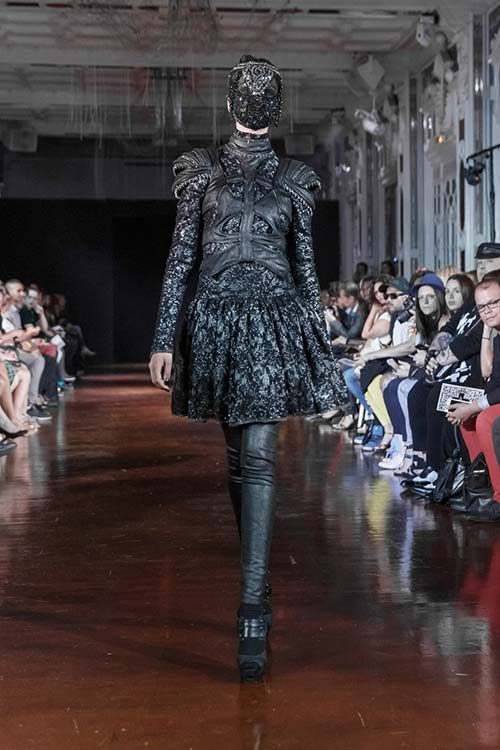 What was your favorite part about participating in Fashion Week Tunis?
(Smiles)...Teamwork! The people there were super motivated, had positive attitudes, with genuine smiles that made your heart melt.
Seeing through your past collections, they're very dark, mysterious, yet hold an essence of elegance, would you consider yourself to be a bit mysterious?
Oh wow...I didn't really think of myself that way. I guess I just usually do things that excite me...things that I hold dear. I always bring my best to the table, try to be as close to the intended aesthetic, and defend it till the end. And yes, the collection is a bit dark, like the stories and fairytales of our childhood.
What's your favorite season to design for and why?
Winter! But as of now, I'm focusing full force on my next collection at the moment, there are countless ideas flowing in. I think that next season will be more interesting to work with than winter…(smiles)...There are no rules.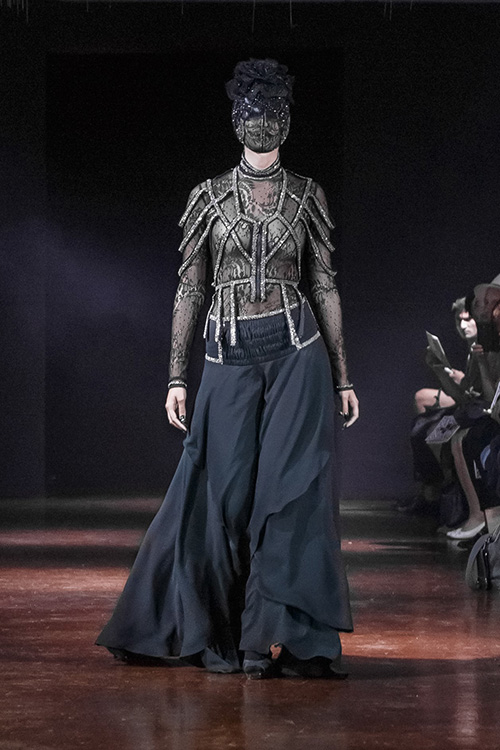 Is there a certain celebrity that you would love to be the spokesmodel for your brand?
There are so many! I really love these strong female characters, these women that constantly inspire me like Bjork, Arielle Dombasle, Tilda Swinton, Vanessa Paradis…Fanny Ardant...Brigitte Fontaine…(smiles).
What's your favorite part about being a designer?
Without a doubt, the workshop! The final weeks before presentation! The stress, last minute decisions, ideas that come to life. Everything is so powerful and condensed, it's almost masochistic! As crazy as it seems, these are my favorite moments. I only exist for this new collection. It's almost as if we are one...one person.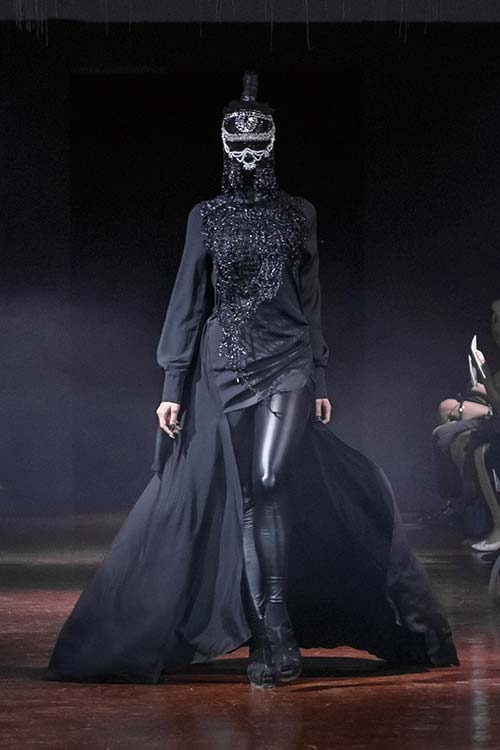 Who is the Ludovic Winterstan girl?
A warrior. Modern. A woman who is like a motion picture in her own right. She's a process, like going from adolescence to adulthood. A woman who lives and learns...someone who can run a marathon in six inch heels.
What are three words that would best describe your brand?
Noir. Couture. Winterstan. (Smiles).
Catch more of Ludovic on Inside Fashion Week, Tunis airing Monday November 7 at 20:00 (UTC +2) Paris, only on Fashion One.