A New Global Campaign, Photographed By Renowned Celebrity and Fashion Photographer Rankin Inspiring Women To 'Find The One For Every You'
Triumph is excited to announce the launch of a new global Spring Summer '17 campaign, '
Find The One For Every You
'. Starring international model and entrepreneur Jessica Hart and shot by legendary fashion photographer Rankin, the empowering campaign marks an exciting new creative direction for the brand.
To view the Multimedia News Release, please click:
http://www.multivu.com/players/uk/7968351-jessica-hart-triumph-lingerie-campaign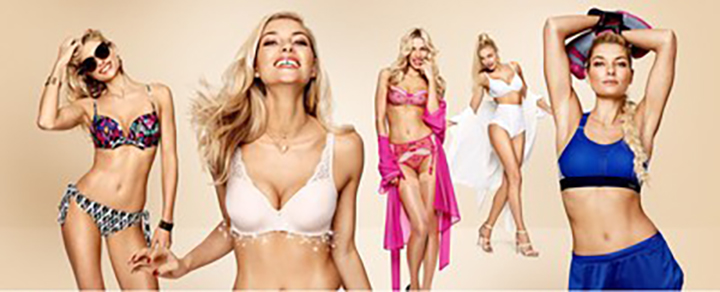 Triumph's Spring/Summer '17 ATL campaign celebrates 'Every You', a story of modern women and their multifaceted lives: she is an athlete, she is a business woman, she is a mother, she is sexy, she is confident. The new creative concept shows just how Triumph bras support women, whatever they do, highlighting the breadth of Triumph lingerie, to help women 'Find the One' for every age, shape, size and occasion.
Jessica Hart and supporting models are seen in various roles, oozing charm and character, which Rankin has captured so perfectly in his bold signature style. For this campaign with Triumph, Rankin plays on real personalities rather than an ideal reflection, resulting in a dynamic campaign, strong individuality, femininity and style.
Rankin comments: "
The most exciting thing about working on Triumph's Spring/Summer '17 campaign is that the brand is moving in a whole different direction. The images are modern, accessible and incredibly confident. We're really pushing the fact that it's not just for the "perfect" women. Triumph is for every woman and every woman can wear Triumph and feel really confident in it.
"
Jessica Hart adds: "
It's a really cool new look and I'm super excited to be part of it - representing this playful side of Triumph that speaks to all women. Triumph understands that women play so many roles in their everyday life - we're fascinating creatures! A huge part of being yourself is feeling comfortable. One day you might feel more like being cosy and supported, another you might want to feel sexy and strong. The exceptional fit and comfort of Triumph products lets you be whoever you want to be and that's something I really love.
"
Featuring in the campaign are Triumph's most coveted styles - from the iconic, feminine Amourette 300, confidence-enhancing Magic Boost and innovative Triaction. 'Find The One For Every You' at
http://www.triumph.com/findtheone
. Just drop in for a fitting or book an appointment online.