12 Days of Valentine's: Edible Gift Ideas for Everyone
The countdown to Valentine's Day begins, and Fashion One is bringing you 12 Days of Valentines filled with everything from lingerie and gift ideas to dating tips and horror stories. Join us for our first installment in our countdown to a very stylish Valentine's Day with edible gift ideas for everyone.
Whether you're shopping for a fashionista or a foodie, or you're splurging or spending on a budget––we've got you covered with these edible Valentine's Day Gifts.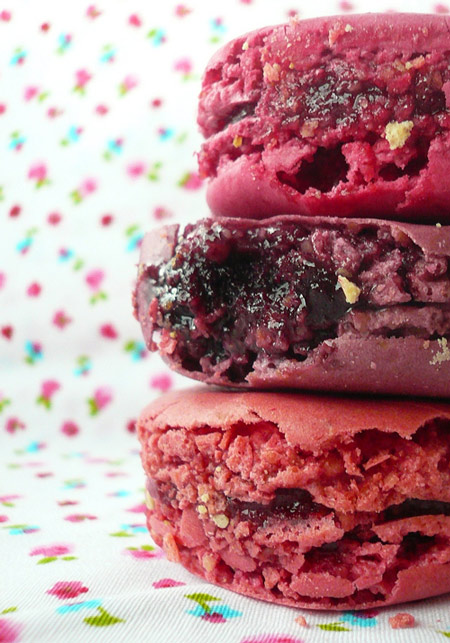 Festive macarons are a favorite on Valentine's Day.
1 Boissier Chocolate Petals
Set yourself apart from the boxes of tacky, heart shaped chocolates this year and impress your loved one by splurging on a box of luxury chocolates from
Boissier
. Boissier is a chocolatier based in France, and was named one of the fifty best chocolate companies in the world by
The Fifty Best
. We recommend the Boissier
chocolate petals
, a tried and true favorite.
2 Bottega Louie Macarons
Bottega Louie
has been established as one of the most fashionable confectioneries in the LA area, and their reputation is well-deserved. Their macaron selection boasts classic flavors like strawberry and vanilla, while also having an impressive selection of more creative flavors like Grand Cru, violet cassis, and pistachio. Can't decide on a flavor? Don't worry, Bottega Louie makes it easy with a ready-packed assortment for
Valentine's Day
.
3 Heart Shaped Spatula
This gift idea isn't exactly edible, but it will certainly have the foodies in your life swooning over how cute it is. Now, your favorite cook can make everything with love. This heat resistant spatula has a 4.5 star review, and can be purchased on
Amazon
.
4 Rosé Champagne
Just because a bottle of rosé has certain bourgeois connotations, doesn't mean that it needs to cost you a fortune. According to
Serious Eats
, Chateau du Rouët 2013 Reservée Tradition Rosé is the best of its kind under $20. Mas Carlot 2013 Cuvée Tradition Rosé is the runner up, and at just $14 a bottle for both, I say pour it up!
5 Edible Underwear
For the cheeky, mischievous, or those that are just looking for a gag gift, edible underwear is the obvious choice.
Spencer's
has an unsurprisingly large selection ranging from candied bras, gummy undies, and even pasties. Gift and use with caution.