I Knew She Was Trouble…Is Taylor Swift a DRAMA Queen?
It seems like Taylor Swift just couldn't bare to stay out of the spotlight this week, though she had no problem baring parts of her body.
The week started with the internet abuzz over the pop star's belly button, and ends with the question: is Taylor Swift starved for attention? Following the mysterious midriff reveal, a hacker threatened to release her nudes. Her spotlight was almost stolen by her BFF and supermodel Karlie Kloss, when the model had a runway nip slip at Versace, but Swift quickly reclaimed headlines by responding––in a very non-southern belle like fashion. Swift retaliated and made fun of hackers, tweeting "PS any hackers saying they have 'nudes'? Psssh you'd love that wouldn't you!" and "Cause the hackers gonna hack, hack, hack, hack, hack…".
Nudes and belly buttons weren't all for Taylor this week, however. Swifties everywhere groaned after Taylor announced that she had trademarked the catchiest phrases from her hit singles. According to CNN, phrases that have been trademarked include "This Sick Beat", "Party Like It's 1989", and "Cause We Never Go Out of Style"––really Taylor? Now what will Swifties embroider and print on t-shirts?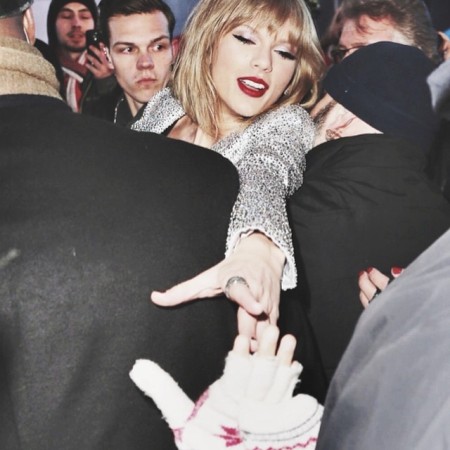 Courtesy of Taylor Swift via Instagram.
The drama continues. As if all of that wasn't enough, Taylor's feud with popstar and Super Bowl headliner Katy Perry was also reignited this week. Taylor referred to Katy as a, "
straight up enemy
" back in September and the rivalry has been ongoing since. The 'Teenage Dream' singer told Billboard this week, "If somebody is trying to defame my character, you're going to hear about it" in reference to Taylor, according to
Daily News
.
As images of Taylor's navel––and news of no nudes––continue to surface a week later, I can't help but wonder: What's next for this pop star? As a celebrity known for her good girl charm, both in her music and in her style, this week in drama seems to be uncharacteristic of the "I Knew You Were Trouble" singer.
Is Taylor Swift tired of being the girl next door, or is she finally letting the limelight get to her? Whatever the reason, I hope that this sudden cry for attention will at least translate to her style. I want less
Safe and Sound
and more Britney Spears'
Toxic
––I'm tired of playsuits and covered midriffs.