What-to-Wear: Weekend to Work
Going out for drinks after a long week at work has become so routine that I don't even have to ask my friends where and when to meet anymore. Though patting yourself on the back with a glass of wine after work is not unheard of, problems arise when my "work hard, play harder" motto from my university years decides to make a comeback. One minute I'm chugging wine, and the next thing I know my iPhone alarm is going off to the beat of my pounding headache.
Though I usually pride myself in my ability to drink and still function the next day, there have been one or two Mondays in my career where the weekend refused to be over. Bloodshot eyes, unwashed hair, and brain operating at 10% and hungover at best; otherwise known as completely unacceptable in the workplace. While I like to think that this stage in my life is behind me, I'm dedicating this week's "What to wear?" to those of you who still have fully functioning livers.
Go from weekend to work with this easy, hangover-proofed outfit.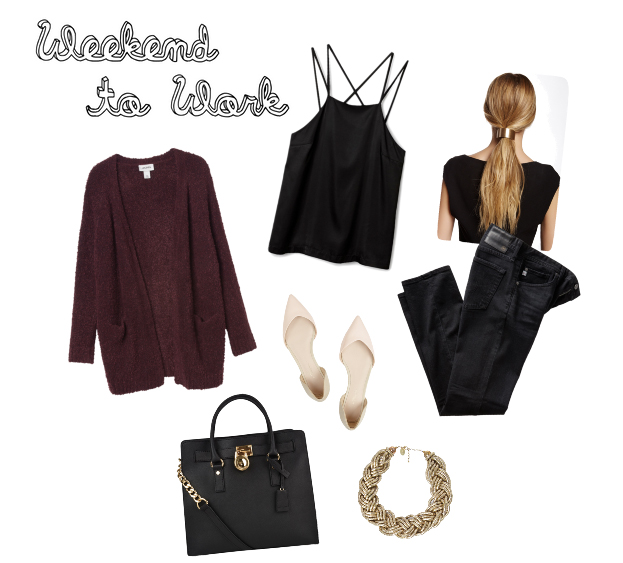 1. Versatile Top
Pair with a miniskirt on Friday and wear with a blazer or cardigan to the office on Monday. After one too many weekend to work situations, investing in a few tops that work both in and out of the office is one of the ways that I cut down on time spent getting ready. Trust me, your debauchery-induced headache will thank you when you don't have to spend an hour digging through your closet on Monday. This top is by Weekday and is available
here
.
2. Black Skinny Jeans
Black skinny jeans are a wardrobe must for everyone, not just stylish party girls. Black-on-black is the easiest way to make an outfit seem more professional and the more rundown I feel on the inside, the more put together I want to look on the outside. My work environment is on the casual side but if your workplace has a stricter dress code, opt for trousers in the same color and a similar cut. Currently, I'm favoring my black skinny jeans from
Cheap Monday
. View their selection of dark denim
here
.
3. Cardigan
Even though I work in a dress code-free environment, I like to combat any residual hangovers by dressing more professionally. I'm generally known for being cynical, but in this case I believe in the power of positive thinking. Dress like a boss and feel like a boss––I'm past the years of letting churning insides effect my outfit
or
my work performance. The right cardigan can act as a comfier alternative to a blazer. This cardigan is by
Monki
and can be purchased
here
.
4. Pointy Flats
If I find myself in a weekend-to-work situation, there's a 99% chance that I'm already running late. This means that I can't be bothered to run in heels or deal with zipping up my ankle boots. I'm usually morally against flats, but this is one of those situations where I need something that's trip-proof and easy to run in. This pair is by
3.1 Phillip Lim
and can be bought
here
.
5. Don't Forget!
A metallic
hair cuff
to tie up your bed head, a large
tote bag
to hold all of your hangover essentials, and a
statement necklace
to make this look more polished.
These tips aren't just for party animals, but can be applied to anyone with a busy schedule. After working several jobs and experiencing hangovers at nearly all of them (sorry boss!), I've come to the realization that problem solving in dressing is just as important as being able to problem solve in the work place. Remember, flexibility is key so invest in clothing that'll look stylish in any situation.
Happy hangover!