Blogger Crush: La Carmina from Canada
Globetrotter, style icon, and self-proclaimed pirate-- this week's Blogger Crush goes out to the lovely
La Carmina
. La Carmina is a travel and fashion journalist who specializes in offbeat adventures in Tokyo and Asia. Since the launch of her blog over 7 years ago, La Carmina has published 3 books about
J-pop
culture and regularly hosts travel shows for popular networks like Discovery and Travel Channel. Now, La Carmina and her film crew travel all over the world to document and explore youth trends, style, and subcultures.
This week, we had the pleasure of catching up with La Carmina for an exclusive interview where we talk about everything from cats and holiday parties, to the importance of social media and her next big career move. Read below!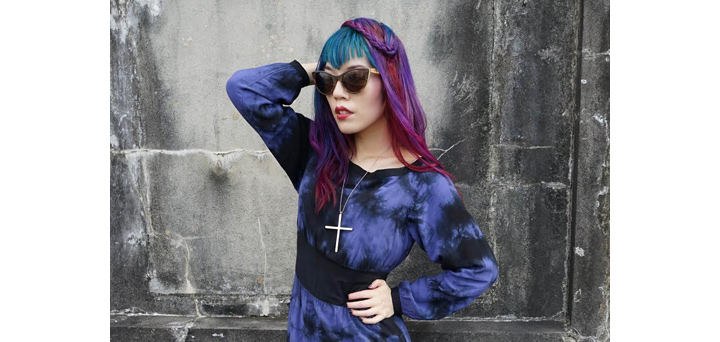 La Carmina showing off her signature style
STEPHANIE: When did you first start your blog, and why?
La Carmina
: I'm from
Vancouver
, Canada and started my
travel and fashion blog
to share my love of subcultures and alt beauty around the world (especially Goth and Japanese). I started blogging in 2007, and my site grew to opportunities I never imagined -- including writing three books, and hosting TV shows on networks like Travel Channel, TLC Asia and National Geographic. Today, I travel with my camera team, usually about one destination a month. We focus on stories that appeal to young, millennial travelers - such as boutique hotels, indie designers and nightlife. My
blog
is particularly known for stories about people pushing boundaries -- such as bagel-head inflation in Tokyo, devil parties in New Orleans, and drag queens in Tel Aviv.
Wow, that's amazing! So how has your style evolved over the years since the start of your blog?
I now put a higher emphasis on quality materials and items. My style is less "club kid" and more sleek, with investment pieces and strong yet minimal accents. Such as a single bird's head silver ring, instead of a stack of different rings.
Quality over quantity is great style advice. That being said, what is your favorite go-to outfit?
Leather jacket, a dress with some edgy aspect (like fringe sleeves or a cut-out skull back), and my Yosuke black leather studded boots, which are comfortable enough to walk all day in. And big cat-eye sunglasses.
Cat-eye sunglasses are definitely a must-have. Where are some of your favorite places to shop?
In Hong Kong, I'm a huge fan of the Miffy shop, and the handmade Gothic Lolita clothes by my friend Natalie Lam at Spider in Mongkok. In Japan, I go crazy at Closet Child, which has several locations and is full of secondhand yet designer underground labels (Moi meme Moitie, Alice Auaa).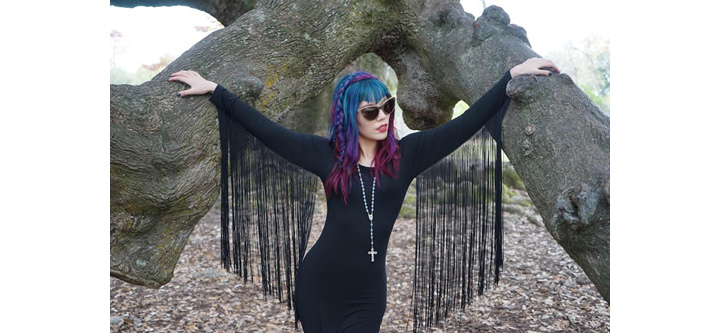 What about in Tokyo, where are your favorite places to shop/eat?
I usually stay in Shinjuku, since it's easy to take the subway anywhere from here, and there are plenty of great sushi parlors and alternative department stores. I highlight my favorites, along with maps and photos, in my
Tokyo shopping guide
.
As someone who travels a lot, what are some must-haves that you always keep in your bag?
I always take both my iPhone and my DSLR camera -- I currently shoot with the Song A7 (alpha 7) mirrorless, and highly recommend it. It's a full frame DSLR, yet half the size and light, so I can easily carry it around. I also carry around big sunglasses, wallet, keys (decorated with a Nintendo Boo charm), tissue, eyelash glue, a small tube of lipstick, and sugar-free mints.
Where is your favorite place that you've travelled to and why?
It's impossible to name just one place, but the Maldives were pretty close to swept-away paradise. Other favorite adventures include absinthe ice cream in Prague, exploring theme restaurants and cat cafes in Tokyo, and attending the festival Wave Gotik Treffen in Germany.
Absinthe ice cream sounds intense! What do you do in your free time when you're not travelling?
I snuggle my rotund Scottish Fold cat, Basil Farrow! He has his own blog at
http://lacarmina.com/basilfarrow
.
La Carmina with Basil Farrow
He's so cute!! Tell us about Basil Farrow.
He's the most adorable, round-faced, tiny-eared Scottish Fold cat. (Ronan Farrow is his father, and actress Mia Farrow is his grandma!) Basil acts more like a dog or a baby lion than a regular kitty. He stays close to people, insists on belly rubs, and has a sixth sense about everything.
It's obvious that you love your job, and as a fellow working girl who also loves her job, I'm curious-- do you ever have moments when work feels too much like work? If so, what do you do to relieve that?
Unlike other fashion and travel bloggers, I've made a conscious decision to not blog in "real time". I think I do much better coverage by immersing myself fully in the experience, and then taking the time at home to write it up. I can't imagine rushing back to my hotel room and staying up til the wee hours, in order to put up my "look of the day." I also blog less frequently than I used to (every 4-7 days), but do more in-depth stories each time, and write posts in advance so I can just press "publish" during busy periods. By relieving myself of this time-crunch pressure, I'm able to maintain balance and release the best possible content.
The time and effort that you spend on your posts definitely shows through. What has been your most memorable experience since the start of La Carmina?
Being Andrew Zimmern's Tokyo co-host on Bizarre Foods (for Travel Channel) was a huge moment. He is absolutely lovely and we continue to be in close touch. You can see more of my travel TV host clips at
http://www.lacarmina.com/pirates
.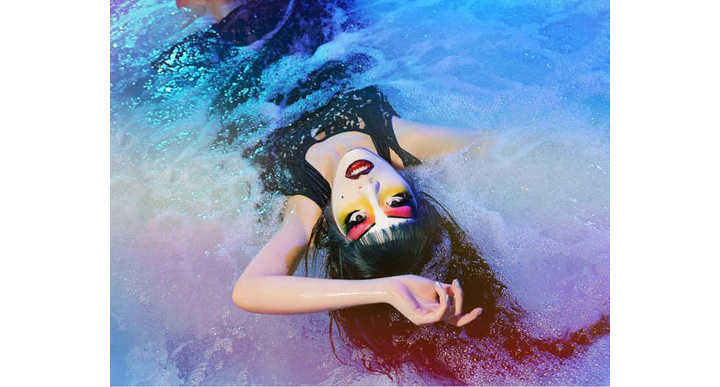 You write on your blog that your goal is to portray youth subculture in a positive light, why do you think that this is important?
I think a lot of subcultures are unfairly misunderstood or portrayed, to the point that people are targeted and bullied. I understand that topics like extreme body mods and fetish parties can be controversial if you're unfamiliar with them. It's my goal to create a positive conversation, and hopefully make people think twice before coming to a judgment.
I really appreciate that sentiment, and think that's why so many people are able to relate to your posts. As a blogger, do you think that social media has changed youth subculture?
Definitely. I see people around the world identifying with Japanese style tribes, wearing the clothes and living the lifestyle, even if they've never been to Tokyo. With social media, youths are now able to connect and share inspiration, no matter how niche their interests are.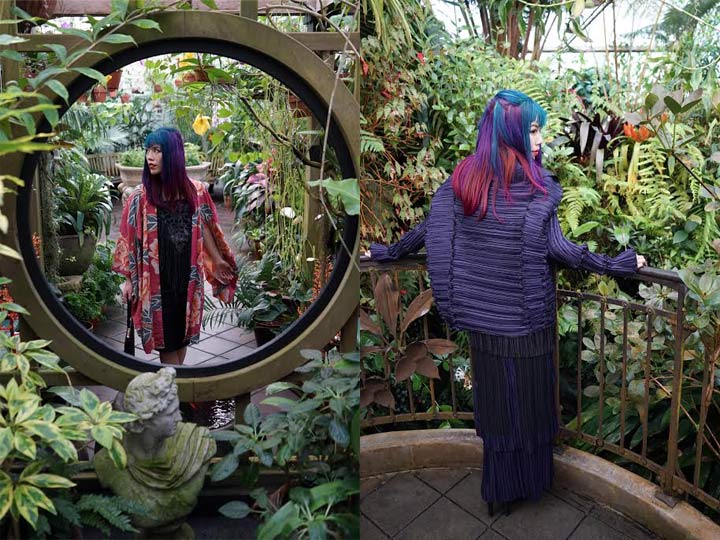 Okay, lightning round. Summarize what you do in 1 sentence.
Alternative Asia fashion & culture blogger, travel TV host, pirate.
Describe your style in 3 words.
Gothic, Kawaii, Subculture.
What do you wear on your day off?
Pajamas! There are days when I'm just at home with my cat, writing and catching up on work.
Fill in the blank: I can't leave the house without _____.
My iPhone.
When's your birthday and what's your sign?
August 17th, and I'm a Leo. I think this sign fits me well, especially since I'm a notorious cat lady.
What's your favorite hair color that you've ever rocked?
I just changed my hair to a blue-purple-magenta ombre with vampire V-shaped bangs, and it's perhaps my favorite so far. I think I look best in cooler shades: purples, blues, reds. Not a big fan of yellow and oranges in my hair, although I've experimented with everything.
List 3-5 Random facts about yourself that no one knows.
1. I'm a direct descendent of Yuen Chonghuan, a Chinese Ming Dynasty military commander who defeated the Mongols, but was later betrayed and killed via Death by a Thousand Cuts.
2. I enjoy filling out forms.
3. I can sleep 14 hours straight, no problem.
4. I've never had any cavities or broken bones, knock on wood.
So, I'm sure our readers are dying to know-- what are going to wear to this years' holiday parties?
Alice's Pig gave me a retro-inspired long blue dress, plaid skirt, and blue coat with a zig-zag button closure. I'm excited to wear these winter outfits, since they'll keep me warm and are edgy, yet not over-the-top. You won't be able to find these types of looks in typical malls.
And finally what's your next career move, and what do you hope to accomplish next?
I have something big up my sleeve... I can't reveal it yet, but my team and I have been working on this for a year, and we're about ready to launch. You'll be the first to know, once it's out! If you're intrigued, you can keep track of these updates at
www.lacarmina.com/blog/
La Carmina is more than just a fashion enthusiast and travel TV host; she is also an advocate of alternative youth subculture. Her dedication to creating a positive dialogue about alternative culture, both with her own style and on her blog, is one of the many reasons why we- and so many others- love her work. Whether she's trying on a dress or trying a bizarre food, La Carmina isn't afraid to push the boundaries and always looks great while she's doing it.
We look forward to seeing what she does next.
For more of La Carmina, visit:
Site
http://www.lacarmina.com/blog
Facebook
http://facebook.com/lacarminaofficial
Instagram
http://instagram.com/lacarmina
Twitter
http://twitter.com/lacarmina
YouTube
http://youtube.com/lacarmina
Pinterest
http://pinterest.com/lacarmina
All photos courtesy of
La Carmina
.