5 Fashion Friendly Apps That Every Girl Needs
In the latest chapter of the ever growing love affair between fashion and technology, a new milestone has been reached; the mobile fashion app. It should come as no surprise that two industries based on creativity and innovation would continue to
expand their collaboration
. Admittedly, I'm late to the fashion app bandwagon as some of these apps have been around for a few years now. But fashionably late is better than never, so here are my top 5 apps that every girl needs to download.
A screenshot of the ASAP54 homepage
1. Stylebook
Remember Cher's
computer wardrobe generator
from the 90s? Back in the time of dialup and AIM, a computer wardrobe seemed a long ways away. Fast forward 20 years, and now we're living in the time of Snapchats but still no computer closet. Until Stylebook, that is. Stylebook is the 21st century version of Cher's digital closet. Snap photos of your clothes, tag them to organize, and make flawless outfits all with just a few swipes and taps on your touch screen. It's basically like a GPS for your closet.
2. ASAP54
You know the butterflies you get in your stomach when you fall in love with a new pair of shoes? You can't help but staring, but decide that you can't leave your new Jeffrey Campbells just yet and decide to keep your Visa in the bag. Two weeks later, you can't stop thinking about them but when you go back to the store they're gone-- never to be seen again. In comes retail-love's guardian angel ASAP54. This app let's you search with keywords, hashtags, and most importantly, photos to reunite you with all those long lost buys you're still dreaming about.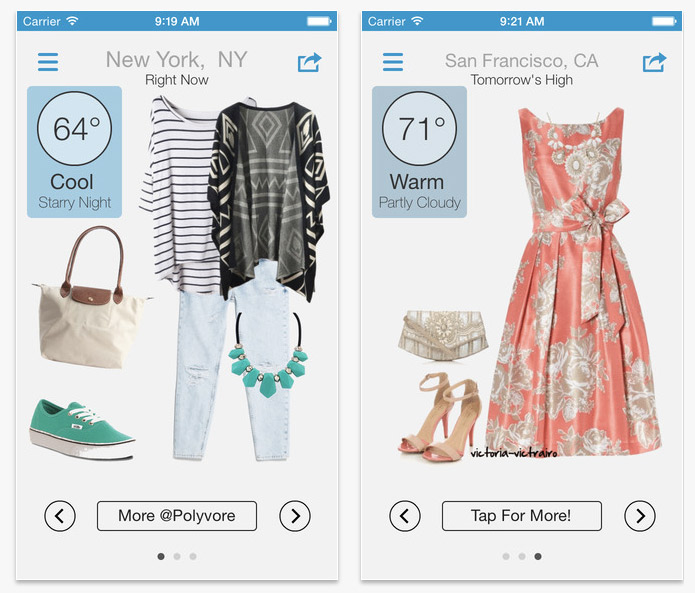 iPhone screenshot of DressCast
3. LIKEtoKNOW
Shopping and liking are among some of my favorite hobbies. LIKEtoKNOW is an app that combines these two interests in one, iPhone friendly place. Just download the app, sync with your Instagram account, and start liking away! The app will send you email notifications with "ready-to-shop" outfits based on your favorite photos. According to their website, "You'll never have to ask 'Where did you get that?' again."
4. Whisp
Whisp is the WhatsApp for all of you tech savvy fashionistas out there. This app acts as a database of over a million pieces of clothing and accessories, but also has a built in messaging functionality. Just drag and drop your favorite items to your friends to get their input. No more snapchats and awkward dressing room selfies necessary.
5. DressCast
This app is for those of you who leave the house thinking that you have the perfect outfit, but regret how many layers you are or aren't wearing as soon as you step outside. DressCast will give you your local weather forecast and an appropriate outfit suggestion so you don't show up to work sweaty or looking like an icicle. The outfits are created by contributing stylists and fashion bloggers via
Polyvore
, so you know you'll always look stylish and weather appropriate with this app.
What fashion apps do you love-- or hate? Leave your comments below.
Credits:
DressCast
,
ASAP54