Top Picks X LUISAVIAROMA
If you haven't heard of LUISAVIAROMA yet, then something is seriously wrong. LUISAVIAROMA is a worldwide luxury shopping site, a self-proclaimed, "reference point for devotees of luxury and fashion," and also the hottest online shopping destination for all things runway and high fashion.
With over 4 million unique visitors a month, LUISAVIAROMA's selection boasts exclusive fashion one-offs and a "buy it first" function that allows shoppers to purchase clothing hot off the runway. LUISAVIAROMA has also had notable collaborations with some of the biggest names in fashion-- including cool streetwear brands like J Brand and Converse, and high-end luxury brands like Dior Homme and Givenchy.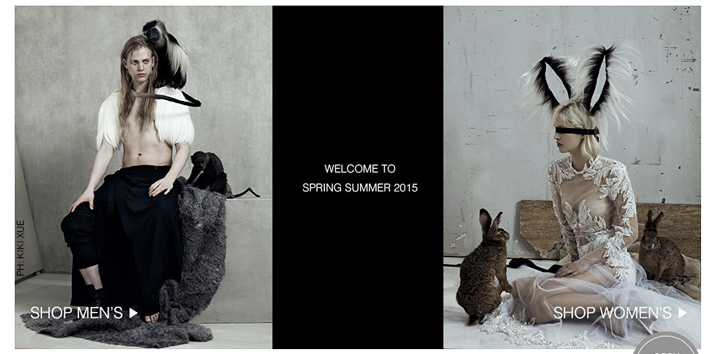 Credit: LUISIAVIAROMA Spring Summer 2015 Campaign
The site is also the first of its kind to introduce a "buy it first" service so that its loyal fanbase can purchase Fall/Winter catwalk collections at the start of June, and Spring/Summer collections at the start of December; keeping LUISIAVIAROMA one step ahead of its competitors and its buyers one step ahead of the fashion curve.
Fashion One has recently teamed up with LUISAVIAROMA to broadcast their latest videos, play their latest campaigns, and show viewers the company and brand's spirit in exclusive blocks on our channel. In honor of this collaboration, I've been invited to present my top picks from their Spring/Summer 2015 collection.
Spring and summer may seem like a long ways away, but its not too hard to imagine warm, sunny days with these picks from LUISAVIAROMA's Spring/Summer 2015 selection.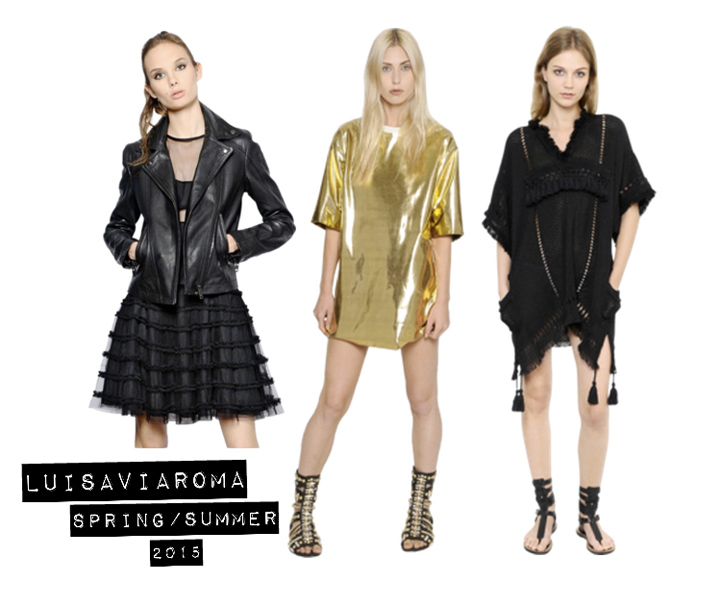 LUISIAVIAROMA has a lustworthy selection of leather, so I immediately went for
this
leather jacket by Diesel. The perfect leather jacket to add an instant cool factor to any outfit is a must, even in the dead of summer. Other top picks include
this
gold lamé dress by Fausto Puglisi and a beach ready
fringe dress
by Isabel Marant.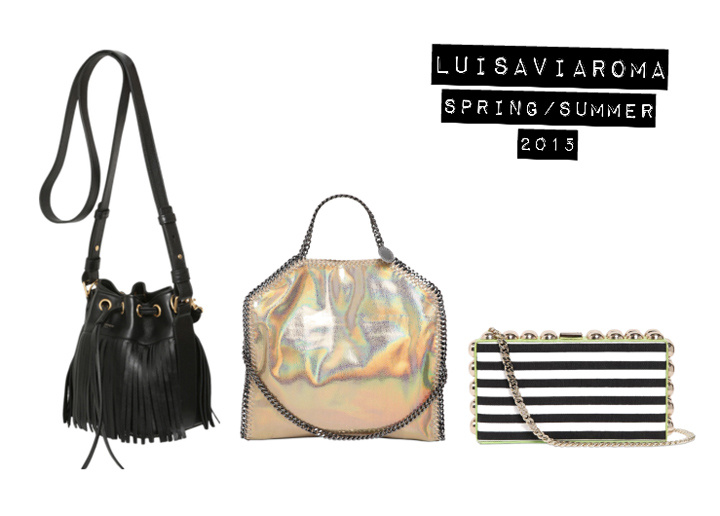 Those of you with a designer handbag addiction will be doing some serious damage to your credit card once you see what's up for grabs on the site. My top three picks are
this
Yves Saint Laurent bucket bag for daytime,
this
Stella McCartney hologram tote for daytrips to the beach, and
this
studded and striped clutch by DSQUARED2 for going out.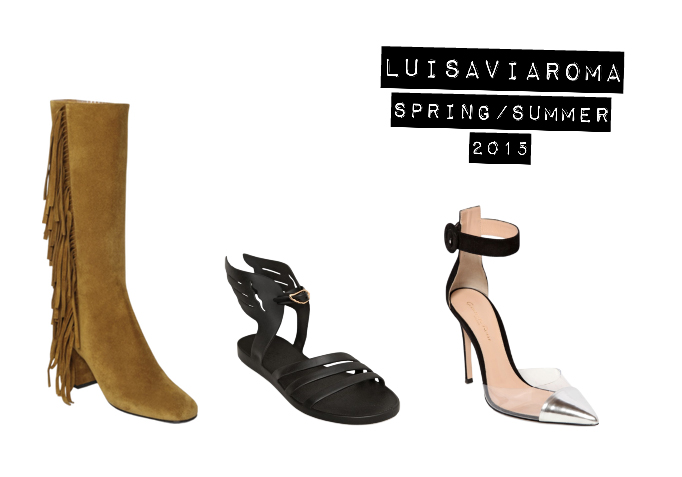 Let's move on to shoes-- also known as where all of my money goes. Maybe its because I grew up in the desert, but when I think of summer my mind immediately goes to fringe (hence the bag and dress).
These
fringed boots by Yves Saint Laurent are just the thing to carry you on all of your summer adventures. These playful
Ancient Greek Sandals
by Ikaria are a close second, while the Gianvito Rossi
Suede and Metallic pumps
are great for a night out on the town.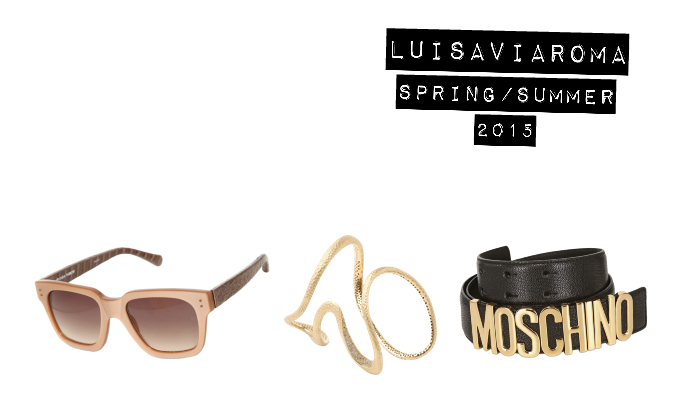 The importance of having the right accessories is not lost on LUISAVIAROMA, just look at how many subcategories of accessories they have on their site (over 20, I counted). I like
these
rosy Linda Farrow shades,
this
unique spin on an arm cuff by Antonini and, last but not least, the classic
Moschino logo belt
.
Spring and summer may be a few months away, but take a break from winter and stay ahead of the fashion game with these picks from LUISAVIAROMA.
For more information about LUISAVIAROMA visit their site
http://www.luisaviaroma.com/
.
Credits:
polyvore