Launch of CARMEN CHAN Universe Jewelry Collection Vol. 2 The Secret of Romance in Universe
With the first Universe Collection launched in mid 2014, the Hong Kong jewelry designer, Carmen Chan, further explores the romantic side of the universe and is
inspired by the pink dwarf planet at the edge of the Solar System
to design this
Universe Collection Volume 2
. The collection will officially be launched at Carmen Chan online shop and selected stockist store in early December 2014 for the season of love at Christmas.
"When you want something, all the universe conspires in helping you to achieve it." The Universe Collection is a jewelry collection about
finding empowerment and love from the universe. To Carmen, a modern woman is empowered, independent yet romantic and feminine
. With the Volume 2 of the Universe Collection, she adds
more romantic pieces with rose gold plating, with new stones including light pink Rose Quartz and olive green Prehnite from Africa, and precious gemstone Topaz
.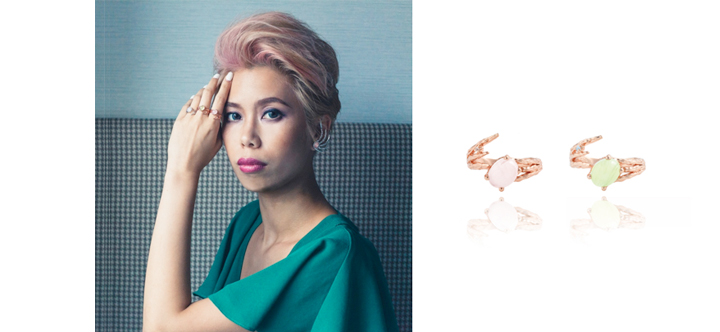 Credit: Carmen Chan
In the Universe Collection Vol. 2, it consists of two Planet rings named
Jupiter
and
Pink Planet
, two earcuff named
Extraterrestrial
, and two two-parted rings named
Claws
. All are in limited quantity with natural semi-precious stones selected by the designer herself, highlighting individuality and celebrating imperfection.
Inspired by the beautiful creation and mystery of the universe, the designer, Carmen Chan, spent half a year studying astronomy to attempt to learn better about this overwhelmingly alluring gem of the nature. What's more is the spirit and inspiration from the universe itself that guides the designer to achieve her dream. "The nature leads you become who you are step by step. Faith within is an empowerment and I want my wearers to feel empowered and loved." The designer explained.
About Carmen Chan
Born and raised in Hong Kong, Carmen Chan is a designer, dreamer, experimenter and lover of beautiful things. Founded in February 2013, the Hong Kong-based jewelry and accessory brand, CARMEN CHAN, aims to create designs that celebrate imperfection and individuality.
CARMEN CHAN is worn by worldwide fashionistas including Hong Kong singer Kary Ng, actress Chrissie Chau, model Cara G and Jocelyn Luko, blogger Cindy Ko, Australian top blogger Micah Gianneli, Miami blogger Ria Michelle, and etc. CARMEN CHAN was also named as one of "The Best Independent Jewellery Designers in Hong Kong" by Sassy Hong Kong in 2013 and featured in publications around the globe including international fashion TV network Fashion One, SO-EN Japan, Nylon Singapore, Time Out Hong Kong etc.
Carmen always believes that a modern woman needs to "be who you are and say what you feel because those who mind don't matter and those who matter don't mind." In her jewelry, explicit style with high sense of self identity can easily be spotted. Every woman is one of a kind; so is her style.