Bunny Friendly Make-UP
I was SO HAPPY to hear that EU ban testing on animals earlier this year. Inspired me to do this blog post about some amazing make-up and beauty products that are already out there and Don't test on animals. Hopefully next year Peta's list is going to get much longer. If you want to check out the whole list it's
here
.
The following brands are some that I personally love, there all in different price ranged, and all been 100% tested on a human.
ME!

Aveda is my number one go-to company when it comes to hair. Absolutely adore it, I use the Invati Shampoo, it gives my hair extra thickness, a fresh feeling and my scalp get's squeaking clean. I alternate my conditioner between the Dry Rememdy and Damage Remedy, and I swear by the Damage Remedy Leave-in Conditioner .
I alos use some of their beauty products and really like them. Here are some of
Avedas
best selling products.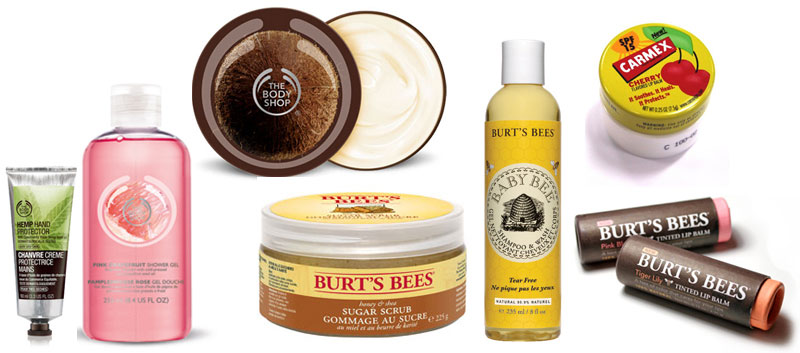 The best thing about The Body Shops products it the smell. DELICIOUS! Their all so damn fruity. Prolly my favorite item is the Pink Grapefruit shower gel, really wakes you up in the morning and gives you that fresh start. Another yummy smelling thing is the coconut body butter, it's actually hard not to take a mouth full.
I do get people that are concerned with The Body Shop, it now is owned by L'Oreal and they Do test on animals. However Body Shop is still on Peta's list which is VERY strict so I trust that non of the indigents have been tested on cute little bunnies. :/
Another high quality brand is the earth friendly natural Personal Care Company called
Burt's Bees.
Try their Natually Nourishing Milk and Honey Body Lotin, Sugar Scrub and lip-balms.
Carmex
also does animal friendly lip balms, use it on dry winter days to keep your lips kissable.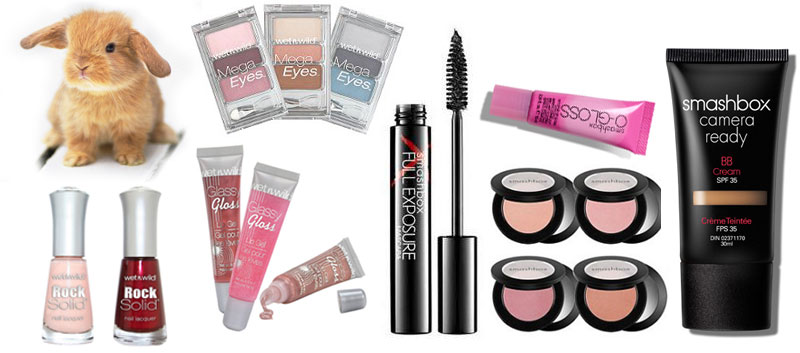 Two very different make-up brands I love equally are WetAndWild and Smashbox.
WetAndWild
have a tones of great eye shadows lip jellies and nail polish at super low prices.
The high end Smashbox is a L.A brand and the favorite of tones of Hollywood starlets. Super potent and amazing quality. Their BB cream, O-gloss, mascara and Blush Rush are just a few best sellers.
Click
here
.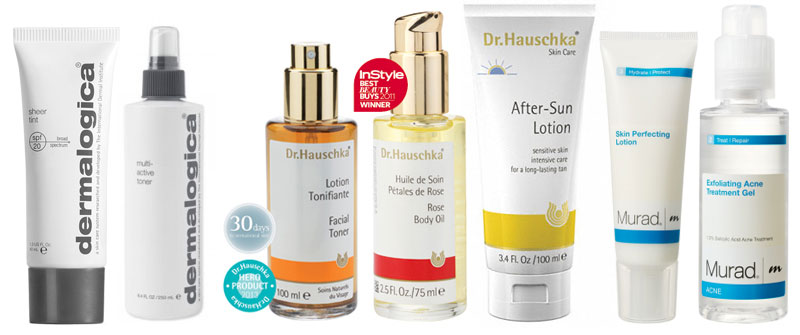 Take care of your skin with
Dermalogica
, Dr
Hauschka
or
Murad
. Not only are these cruel free brands but darling to your skin it's sex. Time to indulge.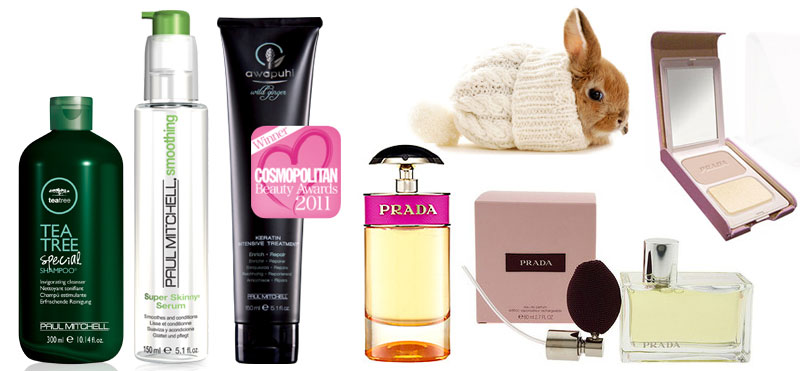 Anyone that really knows me know that I'm passionate about hair.
Paul Mitchell
is one of those few unbelievable hair care brands that can change your frizzy nightmare into cascading supermodel hair. Awarded with "
the leaping bunny
" they have never ever tested one of their products on animals. A philosophy I really like.
Wish Prada did more beauty products, it's a brand that not only stands for some amazing innovative and quality things but also care how they do them.

No, I didn't forget about you guys.
Well I haven't personal tested these, but going on the products they make for gals
Dermalogica
and
Aveda
does some great stuff.
Also it's usually easy to find
The Body Shop
in each mall and their prods are really nice too. One pleasant surprise is that Diddy also made it onto Peta's VIP list. I knew there was a reason I always like him when I met him in da Club.