A Love Story of Sustainability: Q&A with EcoChic Designer Cora Bellotto
Originally from Italy, Cora Bellotto is a freelance designer based in Spain. She is this year's EcoChic Design Award winner for the exclusive mentorship with top designer Orsola De Castro. When it comes to romantic and serene designs, Cora took the cake with her collection "Love Story Endings." She drew her inspiration from love and weddings, using reconstructed secondhand wedding dresses to make some of the most elegant and sustainable garments that we've ever seen.
Read more about Cora's experience below!
What was your inspiration behind your the EcoChic Design Award collection?
My concept for the competition was LOVE STORY ENDINGS. The materials I used in my collection took inspiration of those used in weddings. I saw the potential for these items to be given new life and be part of a certain love story in my mind. With that, I combined two different sustainable design techniques: up-cycling and reconstruction. I up-cycled and reconstructed secondhand wedding dresses and vintage trousseaus, which I sourced from my network of friends and family. I also up-cycled different textile leftovers by weaving them into brand new fabrics. Weaving took up a vast amount of time, but I did it as a way to artistically express myself. It was my statement against the rush that the fashion industry is urging us to follow, designers and consumers alike.
What was your favorite part of participating in the EcoChic Design Award Competition?
The most stimulating and enriching aspect of the competition was that each participant had his or her own personal take on sustainable fashion and had a different approach to tackle sustainability. This made it really enjoyable to have the chance to exchange ideas with fellow finalists. And the fashion show, of course! It was a great moment I will remember forever.
How did you feel the moment they called your name for the Mentorship with Orsola De Castro?
I didn't expect to win it because all of the participants were very talented. At that moment I felt very honored and extremely excited... my face turned very red!
If you could style a celebrity for a red carpet event, who would it be and why?
My dream would be to come across people wearing my designs when walking down the street. But if I had to pick a celebrity, I'd pick Florence Welch, singer of the band Florence and the Machine.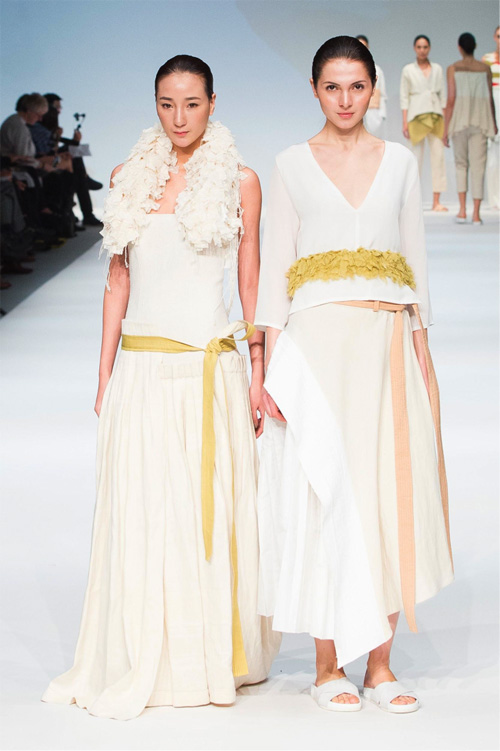 How is the fashion scene in Spain different from other countries?
I have the feeling that here in Spain, the younger generation is aware of the importance of sustainability. I have met many young people willing to support young designers, maybe more so than in my home country, Italy. But there is still a huge market that seeks cheaper options.
Making sustainable clothing for the betterment of the environment is such a great thing, when was the pivotal point where you realized this?
Fashion waste has always been one of my concerns. I've been interested in investigating what our society considers to be trash ever since my very first project at the New Academy of Fine Arts in Italy. I did my bachelor's thesis under the supervision of designer Marina Spadafora (who recently won a big prize at the United Nations for her commitment in sustainable fashion) and she really boosted my interest in this area. After graduating, I did an internship with her at Cangiari, a sustainable fashion brand from southern Italy, working towards combatting the spread of the Mafia and raising employment opportunities for women.
Who or what inspired you to pursue your dream of becoming a designer?
Yohji Yamamoto. I've watched the Wim Wenders documentary about him over a hundred times and I'm truly fascinated by his style and personality.
Are there any trends that you would like to make a comeback?
Bonnets - white ones made with cotton and lace.
Who is the Cora Bellotto girl?
She's a confident woman, feminine, cultured, contemporary and nostalgic at the same time. She wants to be comfortable and likes wearing wide and flowing clothing
If you could describe your collection in three words, what would they be?
Delicate, fresh, sophisticated
To know more about Cora's journey, watch
Frontline Fashion: The EcoChic Design Award
, Monday August 29 at 20:00 (UTC +2) Madrid.