America's Next Top Model Contestant Found Dead, Where Are the Rest Now?
Following the
tragic death of America's Next Top Model contestant Mirjana Puhar,
the world has been wondering: What actually happens to ANTM contestants, and where are they now?
After Mirjana Puhar's passing, the show has come under fire for what happens to its contestants after their short lived stardom. Mirjana was shot dead earlier this week in a triple homicide, but unfortunately, the tragedy doesn't stop there. Cycle 8 contestant, Renee Alway was arrested after a six hour pursuit by police in 2013 and was sentenced to 12 years in prison. According to
AOL
, Alway, "[...] pled guilty to four counts of felony burglary, one count of vehicle theft, one count of being a felon in possession of a firearm, and a misdemeanor count of identity theft."
Use of drugs and admittance to rehab has also been reported about former ANTM contestants. Lisa D'Amato of Cycle 5 publically checked into rehab on the Dr.Drew show, while Jael Strauss of Cycle 8 had a meth and cocaine addiction that caused her to become homeless. Jael also took to stripping for money while Cycle 14 contestant Angelea Preston worked as a paid escort and, consequently, got booted off the show.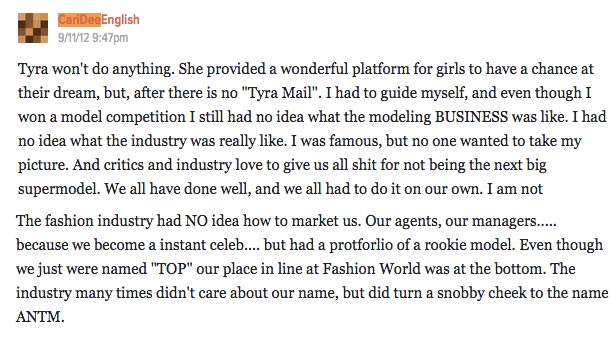 This revealing news about former ANTM contestants has led viewers to wonder if the false sense of glamour and promise of industry recognition is actually damaging to the contestants' mental and physical healths. Beyond that, do America's next 'top model' even make it in the industry?
According to CariDee English, who took home the 'Top Model' title in Cycle 7, wrote, "The fashion industry had NO idea how to market us...Even though we just were named 'TOP' our place in line at Fashion World was at the bottom. The industry many times didn't care about our name, but did turn a snobby cheek to the name ANTM," in a
comment
.
Tyra Banks, host and creator of
America's Next Top Model
, said that she is 'deeply saddened' by Mirjana's death but has not made any further comment on life for contestants after the show.