Wednesday Mess-age : The Best ALS Ice Bucket Challenges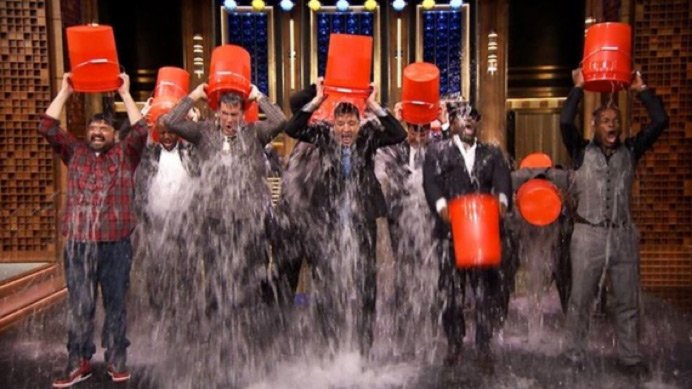 We have all heard of the latest craze to hit the social media sites. From no make up selfies to nek nominations and finally the latest, and dare I say, funniest challenge: The Ice Bucket Challenge.
Its been all over the news and it has even hit the fashionista world with models such as quirky and silly cara delevingne to sexy and sultry Gisele Bundchen do it and posting it on their official insta-pages!
For those who don't know the rules it is within twenty four hours of being challenged, participants have to video themselves. But before they pour the ice cold water over themselves they need to announce the next people to be challenged. The bucket is then poured over the participants head, there isn't a set rule to how big or little the bucket needs to be and this leads to a few being huge bin buckets to little glass salad bowls.
This is honour of its pioneer Corey Griffin that tragically died at 3am on Monday morning. He was only twenty seven and it happened due to a diving accident.
While Griffin didn't have a direct relationship with the ALS Association, the ALSA commented on his contribution to the Ice Bucket Challenge's success "We commend Corey for his exemplary efforts for raising awareness and funding to fight ALS."
Now lets look at the best of these challenges!
The top 10 BEST ALS Ice Bucket Challenges
1. Cara Delevingne
"Douce me b***es!!"
2. Oprah Winfrey
"I am ready for the ice bucket now"….. cue the best Ice Bucket Challenge scream EVER.
3. Jack Black
"taste it suckers!!"
Cue the water pistol finale! Thank you Jack Black's young son.
4. Lady Gaga
….silence…. Only Lady Gaga can do this challenge in what looks like a leather cut out body suit!
5. Andre Japejic
Sashaying into the Ice Bucket? Just so fashion.
6. Britney Spears
"oh my god…. Fu-" Cut off at the right time
7. Karolina Kurkova
"welcome to the ice bucket challenge with my mummy Karolina Kurkova" Love how Kurkova got her cute little son to pour the bucket!
8. Suki Waterhouse
"Good morning guys……. Cant wait to do this" and Waterhouse seemed sincerely geniuine. Seriously.
9. Charlie Sheen
A perfect twist to the Ice Bucket Challenge!
10. Mario Testino
"aaaaaaahhhhhhhh – maaazing!"
Who will do the challenge next? The participation of celebrities is quickly pushing this media Challenge as the most star studded challenge yet. Testino has nominated Donatella, Kate Moss and David Beckham. So we will all just have to wait and see.
In collaboration with Mess Magazine.