FABULOUS, STYLISH, DIVINE AND PURE
April, August and December are my favorite moments of the year because they are white months.
The days that many girls' dreams come true and for those that are not royals, they get to be royals for that specific day in their lives.
August is almost here and there are many to be brides out there looking for something special to wear and that is where I come in today.
I am here to share with you the best of designer gowns that are in style right now to give you, the bride the perfect choice for the more sophisticated weddings that will make your groom shed tears for how beautiful you will look.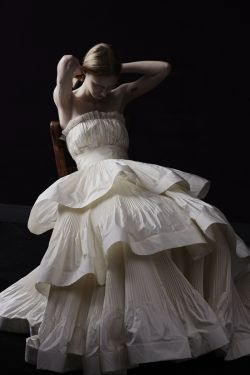 Our first pick for a gown is a from a French couture brand, the dress tells a story of great romance plus drama. It's a long ivory gown in pleated taffeta with a ruffled, three-tiered skirt by Lanvin Blanche collection.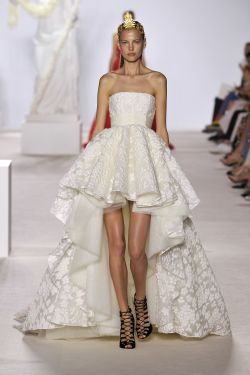 The first gown is fit for an after party dinner, its high-low skirt, layered ruffles and raised floral pattern, makes the dress sexy and refined. It's an haute couture silk jacquard bustier gown with a high-low skirt, worn with a gold and bronze colored tiara and laced velvet sandals by Giambattista Valli.
And from the runway of Shaghai we present the best from our most top designers.
The designers have created out-of-this-world gorgeous, bridal stunners that are sure to make you swoon. The dresses make you think of sheer trend with amazing cut-outs, and structured necklines. Each of these amazing dresses give the bride a contemporary looks and are a true work of art, with pure romance.