MADE Gives New York Fashion Week A Much Needed Facelift
Change seems to be the hottest trend in fashion for 2015––and New York Fashion Week is the next to undergo a big overhaul. While it has been known since December that NYFW will be leaving the legendary Lincoln Center for good, nothing was said about it's new home. Now, WME-IMG, the company responsible for NYFW,
has announced
that it will acquire
MADE Fashion Week
. Hosted by
Milk Studios
, MADE Fashion Week is the streetwear equivalent of NYFW's high end fashion. MFW is a fresher, younger celebration of fashion––famously giving a leg up to highly talented designers like Joseph Altuzarra, Proenza Schouler and Alexander Wang. Considering this year's trends, NYFW has found a very fitting new home.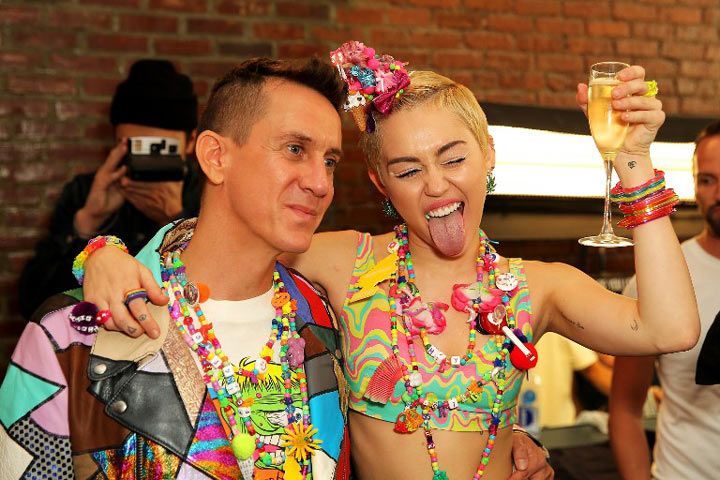 Jeremy Scott and Miley Cyrus at MADE Fashion Week
MADE Fashion Week's co-founder and co-owner Keith Baptista says that fashion editors and fans are calling for an updated and more authentic fashion experience, which they could no longer get in New York. This is where MADE comes in. Famous for putting a premium on creativity and talent over commercial gain, it is bound to add a gritty new side to NYFW. The question now, however, is whether MADE Fashion Week will become as commercialized and profit-driven––and therefore, stale––as NYFW? Without MADE, where will young designers go for free makeup and show space?
MADE's owners Baptista, Jenné Lombardo and Mazdack Rassi insist that the team will still promote the "creative hub" at MADE and will use its newfound resources from WME-IMG to finance more shows globally. It seems that with NYFW's move, more opportunities will be provided for newbie designers to make their debut into the industry. For NYFW, on the other hand, MADE is sure to completely reinvent it and give it a face that we've never seen at Lincoln Center.