Katy Perry Calls Taylor Swift a "Sweetheart"…Does That Make Her the Villain?
It seems ex-husband Russell Brand––who "destroyed her heart" no less––failed to dampen Katy Perry's spirit with a
tweet
just before her Super Bowl gig. In fact, the
California Girl
is on a roll. After dazzling in
Jeremy Scott
costumes for her halftime show, Katy will appear in Giambattista Valli for Elle Magazine's March 2015 cover. She looked very feminine in Valli's appliqued separates, which she wore with Chanel earrings. Katy posted a sneak peek of the cover on her Twitter today, captioning the photo: "Fashion!"
The March 2015 cover will be Katy Perry's third for Elle, and she is obviously thrilled. In the cover story, Katy talks about her peers in the pop music industry and revealed that she is a huge Beyoncé and Adele fan.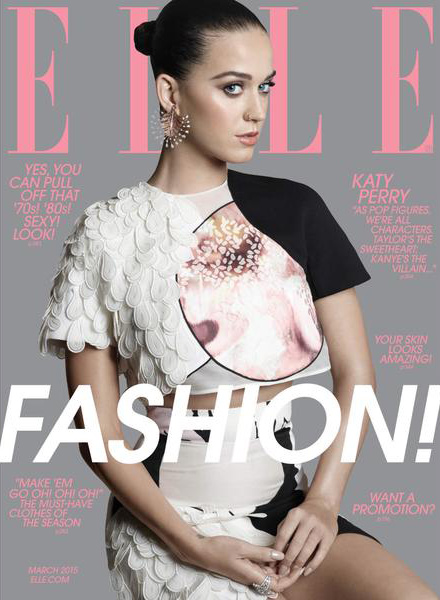 Image courtesy of Katy Perry via Twitter
"Adele is so real and couldn't care less about the trappings of fame," says Katy. She loves Adele so much that she didn't even mind that the British diva stole her "after-show burrito." I wonder how Katy would react if the all-important burrito was taken by Taylor Swift? With all the hype about their alleged feud, it comes as no surprise that the country songstress' name would come up in the cover story.
"As pop figures, we're all characters. And the media uses that," says Katy. "Who is the sweetheart, who is the villain? You know. Taylor's the sweetheart. Kanye's the villain. That's the narrative."
While Katy Perry's soap opera casting choices are interesting, the question on everybody's mind is––was "sweetheart" a compliment? If you can't get enough of the Katy Perry-Taylor Swift drama, read more about it
here
.